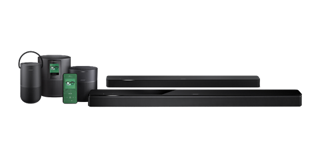 comparisonTableText.adaFeaturesKey1


Connectivity
Wi-Fi®, Bluetooth®, and Apple AirPlay 2


App accounts
Personalised accounts for each person in the household

Multi-room
Connects with other Bose smart speakers and soundbars for more music in more rooms

Compatibility
Works exclusively with other Bose smart speakers and soundbars. Does not work with SoundTouch speakers or soundbars.

Software updates
Access new features through automatic software updates


Design
Sleek, superior design with premium materials
comparisonTableText.adaFeaturesKey2

Voice control
Can connect to external Amazon Alexa products, not included



App accounts
Single shared account for household

Multi-room
Connects with other SoundTouch speakers for more music in more rooms

Compatibility
Works exclusively with other SoundTouch products. Does not work with Bose smart speakers or soundbars.

Software updates
Standard software updates available via the SoundTouch app

Design
Classic design with quality materials